She may be a total bitch and snobby and very pretentious but Blair Waldorf is a woman of her own will, and that is something I think we can all admire. As a gossip girl fan, and even bigger fan of Blair I feel like she has lived her life to the fullest we can all learn from her and follow in her footsteps to become women of our own will. These are the lessons that Blair Waldorf taught me…
1. Make shit happen yourself. You are responsible for your own life, don't sit around and wait for doors to open for you! Go find the doors, bang on them, hell, even kick them down if you have to. Just make sure you take your future into your own hands.
2. Real friendships never are easy.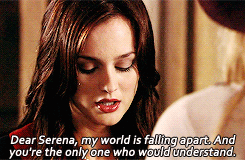 B and S's turbluant relationship has lasted many years and it has taught us that as you grow older things between friendships will change, and the most real ones are never simple. Like relationships, you have to fight and work at it to keep friendships alive but the ones that really matter are all that counts.
3. It's good to have high standards.
Never lower your standards, after all, they are yours and no one else's. Why should you have to settle for anything less than what you want? How stupid of an idea is that?
4. Know your worth when it comes to males.
I believe Blair said it best, men are stupid and you as the modern woman should only get the man of your desires and nothing less because you only deserve the absolute best. Especially when it comes to significant others.
5. Retail therapy is very real.
I dare you to find me a problem that shopping your heart or a cocktail out won't solve.
6. Accept the mistakes you make , learn and move on.
The past is the past and there is nothing you can do to change that no matter how hard you many try. They only thing you can do is embrace it with open arms, learn and better yourself.
7. Determination is everything.
Failure is all in your head. I've done even done a thoughts post on why failure is so important. No matter how many times you may 'fail' the only thing that matters at the end of the day is getting back up on your feet and trying again and again until you get the results that you want.
8. Be yourself, unashamedly.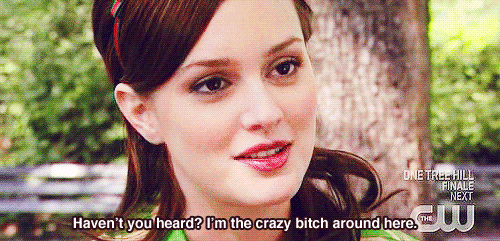 There is no one else like you, no matter how hard they may try, no one can ever replace you as a person. You are the shit! Own it and love it.
Have you seen gossip girl? What are some life lessons you have taken away from the scandalous lives of New York's elite?
Until next time,
Xoxo gossip girl ( lol I wish)